NYC Dept of Youth and Community Development
Client: NYC Department of Youth and Community Development DYCD
The New York City Department of Youth and Community Development (DYCD) invests in a network of community-based organizations and programs to alleviate the effects of poverty and to provide opportunities for New Yorkers and communities to flourish.
DYCD Connect
Roles: Researcher, Analyst, Designer View Prototype
The DYCD connect mobile app was designed to help youth and communities with locating sites and connecting with services that are funded by the local New York City government.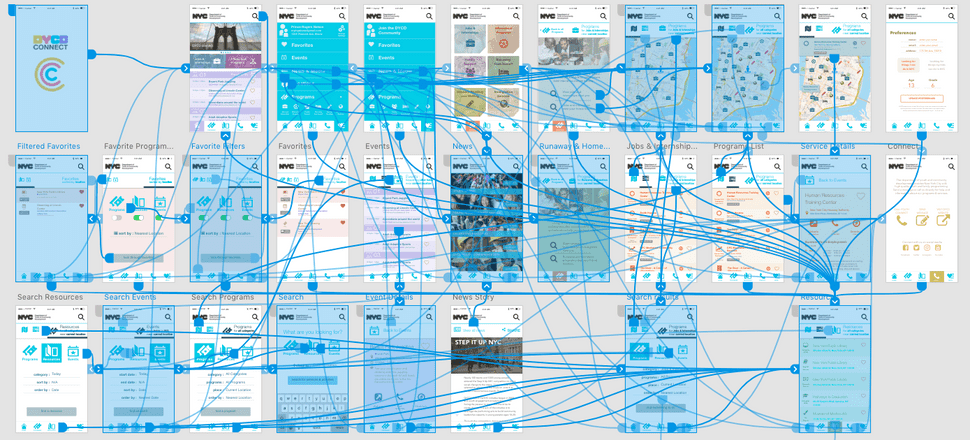 Drastic changes to home pages require quantitative insight into behaviors. Analyzing user flows can determine when users give up or accomplish goals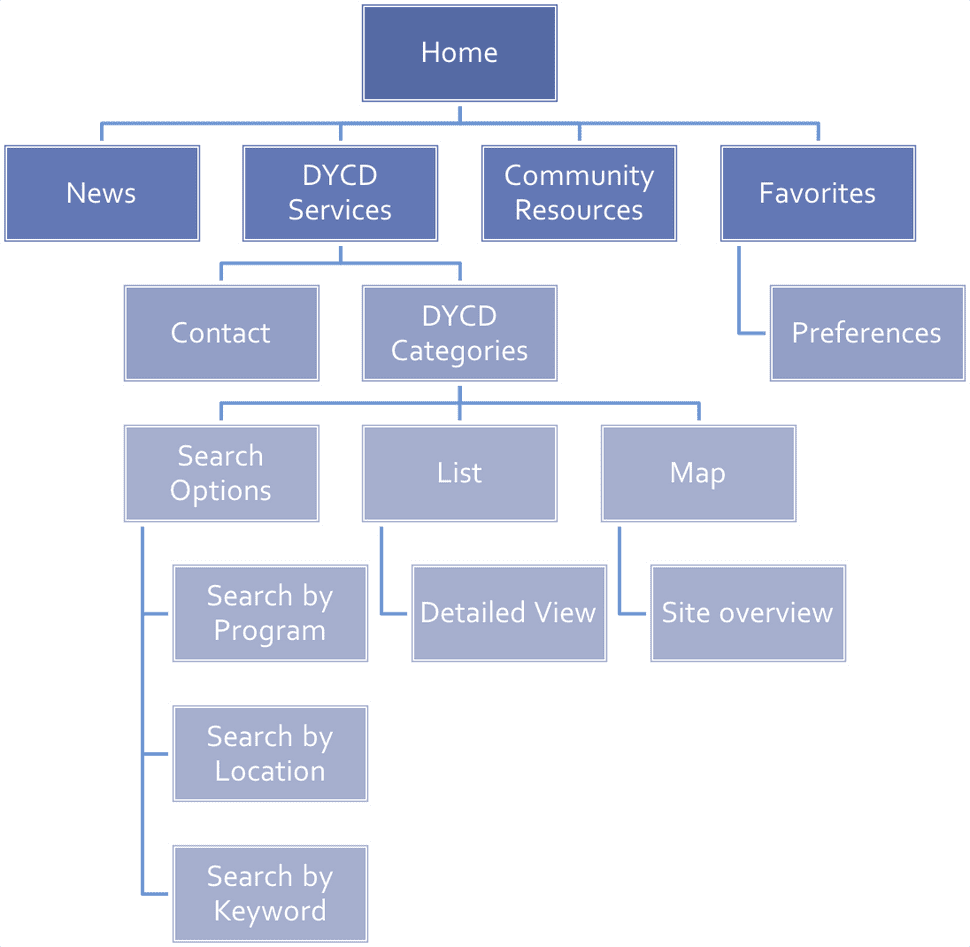 The information architect for the mobile app was derived from research and common behaviors demonstrated by New Yorkers who may be in need of services. Many iterations and design styles were used and tested to get to the final product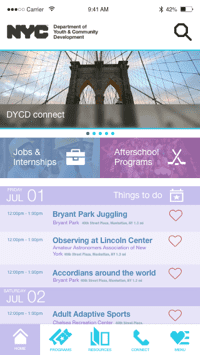 The home page provides quick access to news, jobs, after school programs, and upcoming events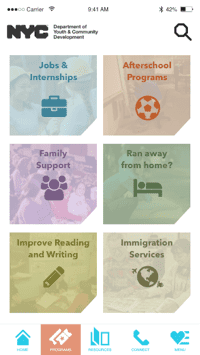 New Yorkers can get view various programs organized into categories, from jobs to immigration services
Major screens within DYCD Connect help to specify the type of services being offered, and the ways to display the results for program sites that the NYC community use for assistance.

List available youth and community job programs. Show program results as a list. View search results with an alternative map view to specify service, type, and categories
Suggesting program sites based on universal forms
Getting users to sign up for public programs is a challenge, especially in a city as grand and diverse as New York. By associating user intentions with their profile, DYCD can help make recommendations for relevant programs.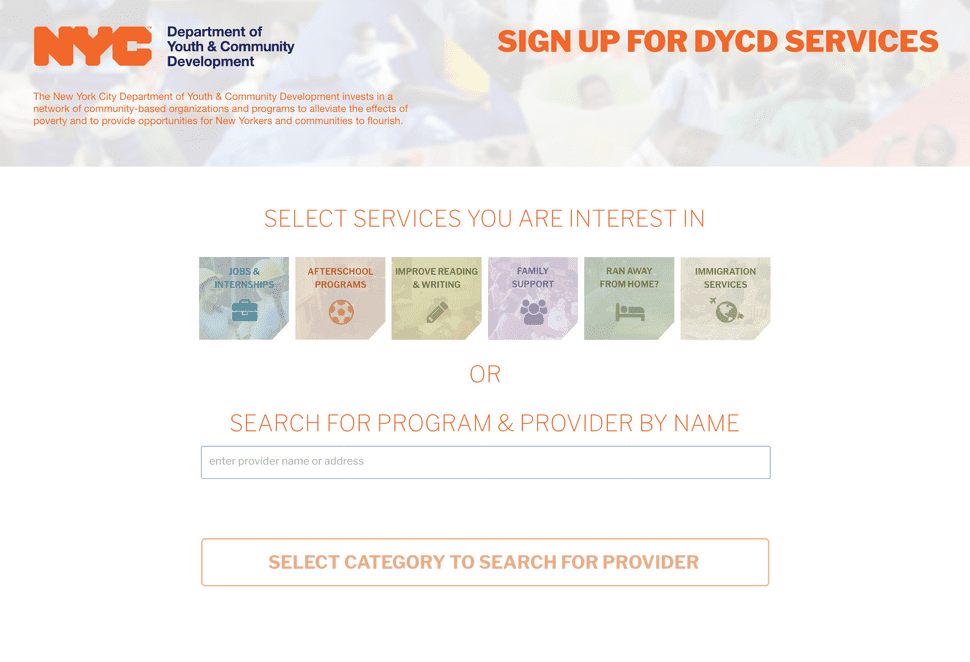 The process behind raising awareness for community programs involves understanding which specific program a participant is interested in, getting a sense of why, and for whom, the services are sought, and entering in basic information to get site results.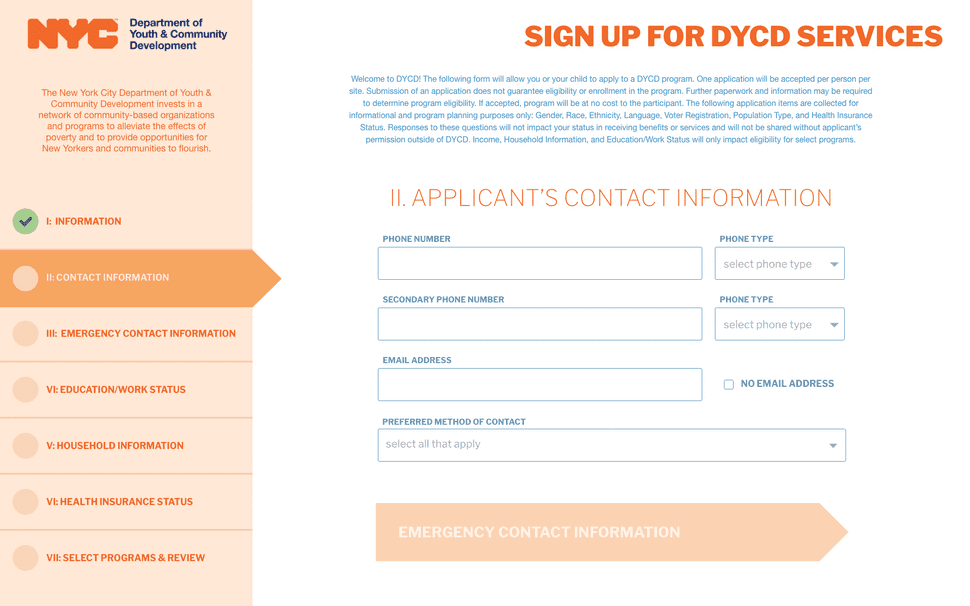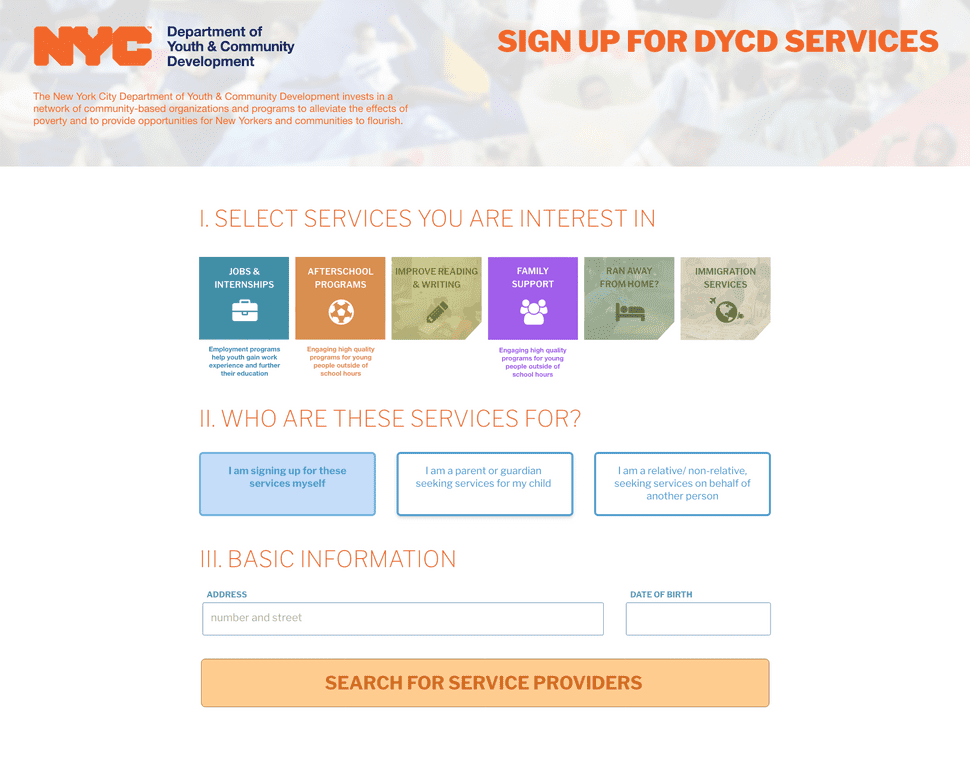 View category listing of programs, and specify who the program would be applied to.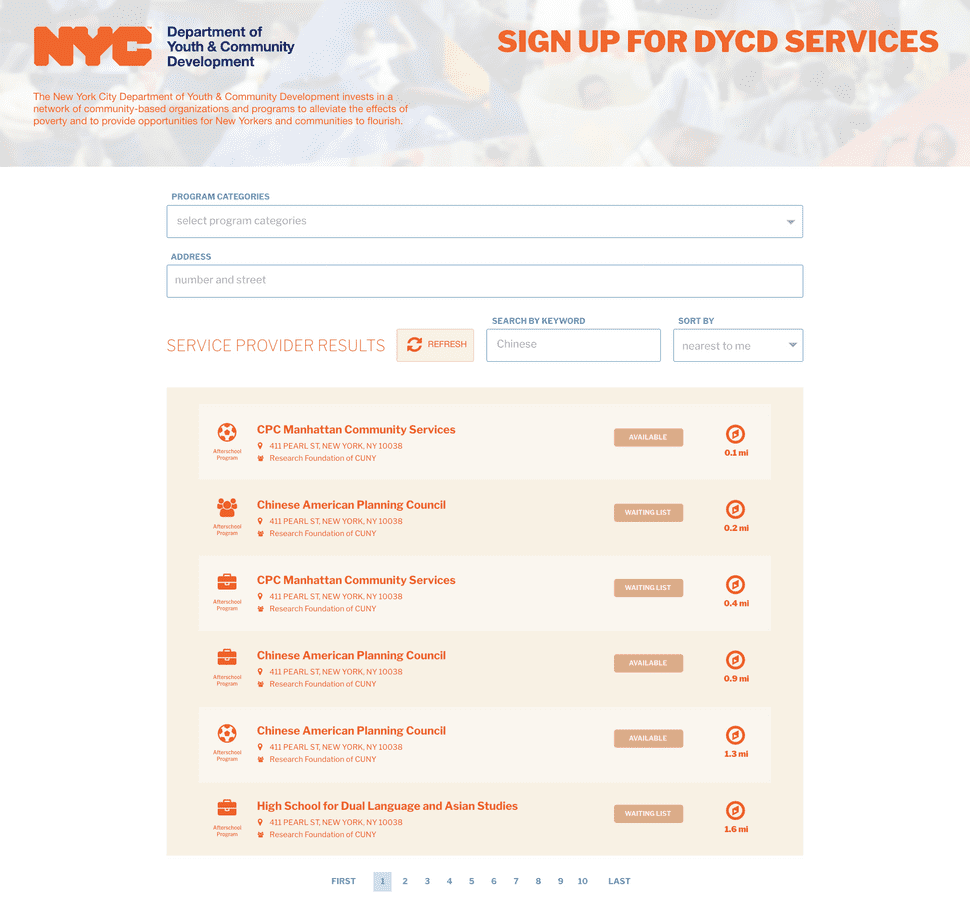 Site listing results for searches based on program categories and location.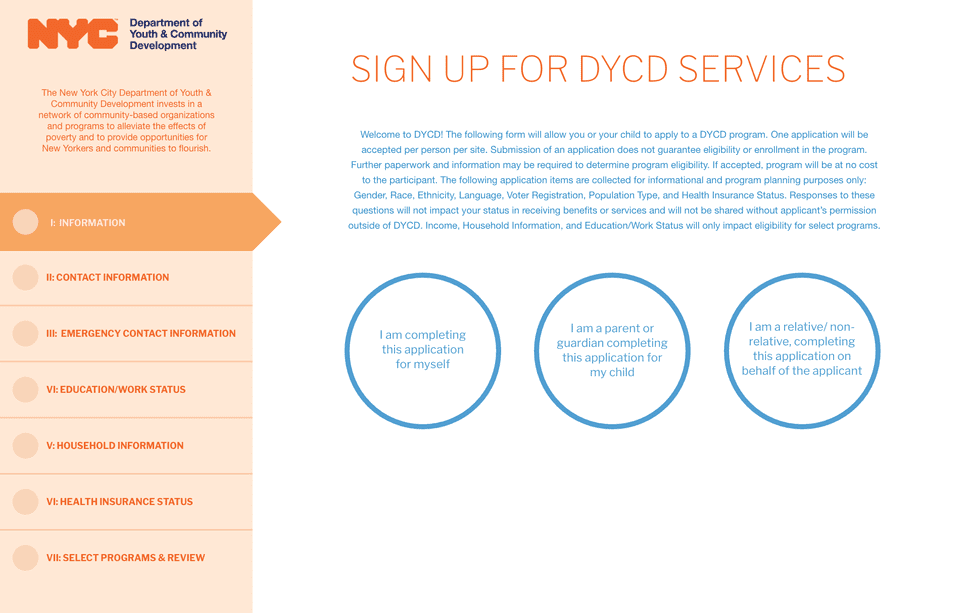 After selecting a site, users can enter in the more detailed information for program enrollment.
Giving community-based organizations the chance to track and recommend programs for New Yorkers who are interested in their service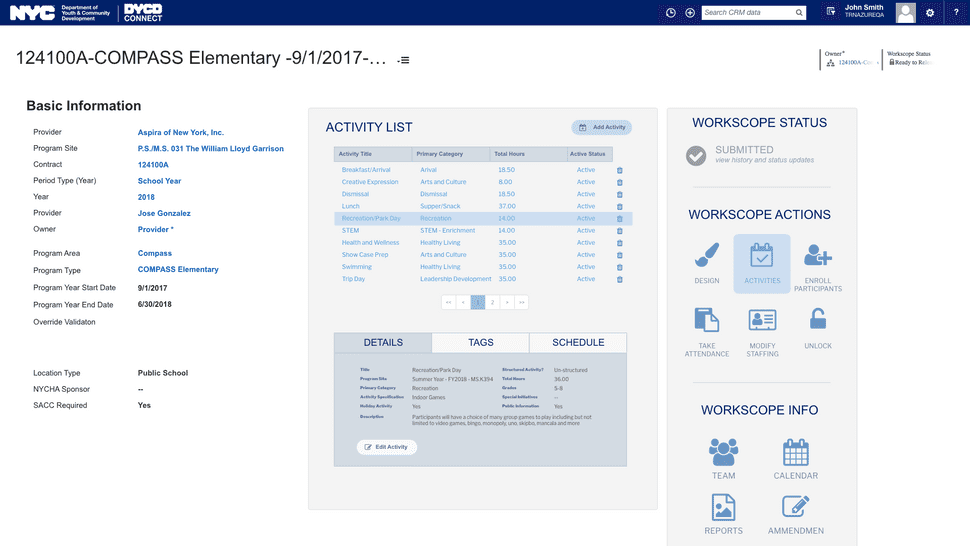 The DYCD Participant tracking system allows service providers to keep records of which New York community members they are providing services for and helps ensure proper usage of taxpayer funds for essential programs
View list of activities associated with a program
Access and edit details for a specific activity
Apply tags to activities for better sorting
View multiple schedules that can be applied to an activity
Providing tools to connect community-based organizations with the people they serve
Tasks: Research, Analysis, Design, Prototyping
DYCD connect is a single point of entry for community-based organizations and technical assistance providers to access multiple applications and content through a singular user account.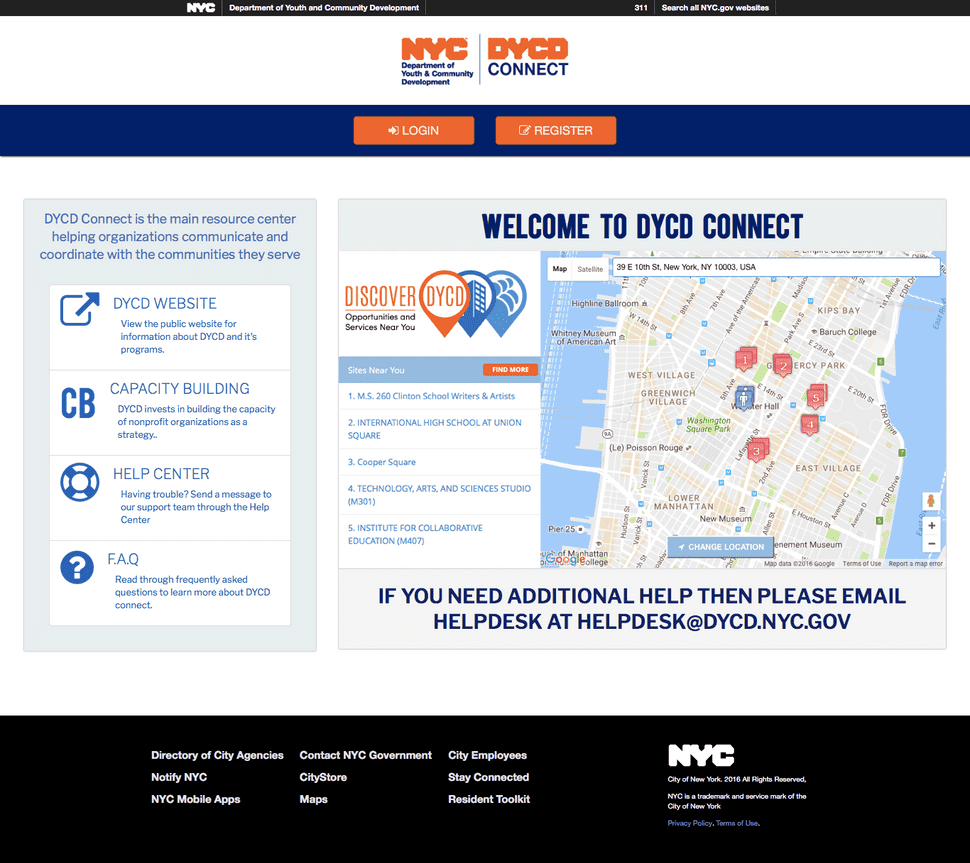 Unauthenticated view of DYCD Connect to show most important organizational details as they relate to the Department
<! -- [View DYCD Connect frontend](/projects/dycd/connect/home_unauth.html) -->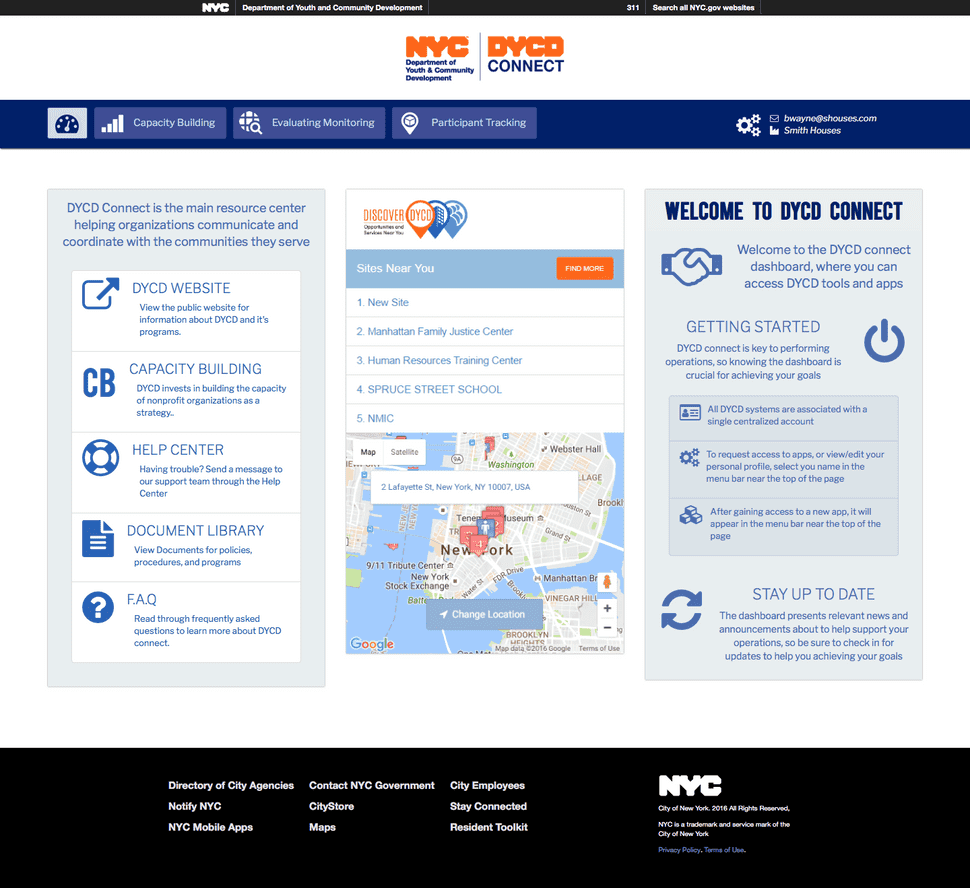 Authenticated view of the Dashboard showing information relevant to the user role and expected task
<! -- [View DYCD Dashboard](/projects/dycd/connect/dashboard.html) -->
DYCD Connect is the main resource center helping organizations communicate and coordinate with the communities they serve. As a platform, DYCD connect has many pieces to it that allows organizations to not only get the latest content updates on public sector contracts, but to get general help, support, and guidance towards making as much positive impact as possible.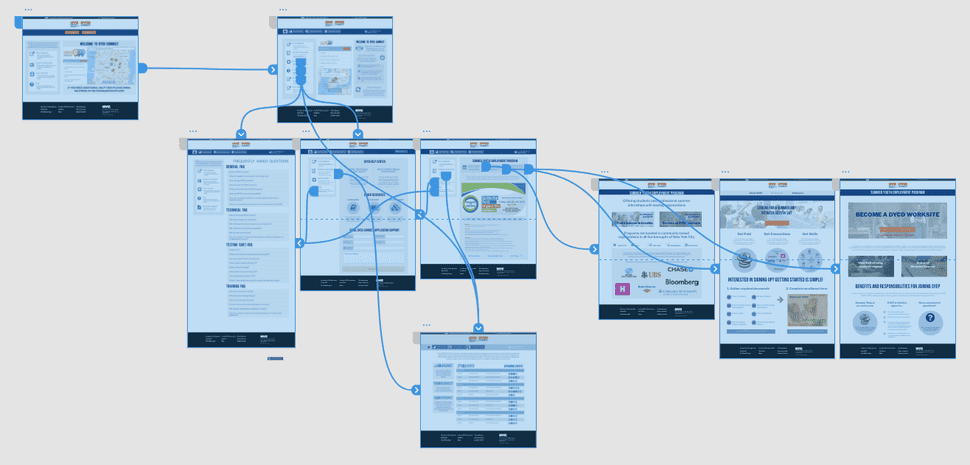 DYCD Connect offers information and access based on context, and user type, but still offers a familiar user interface based across different screens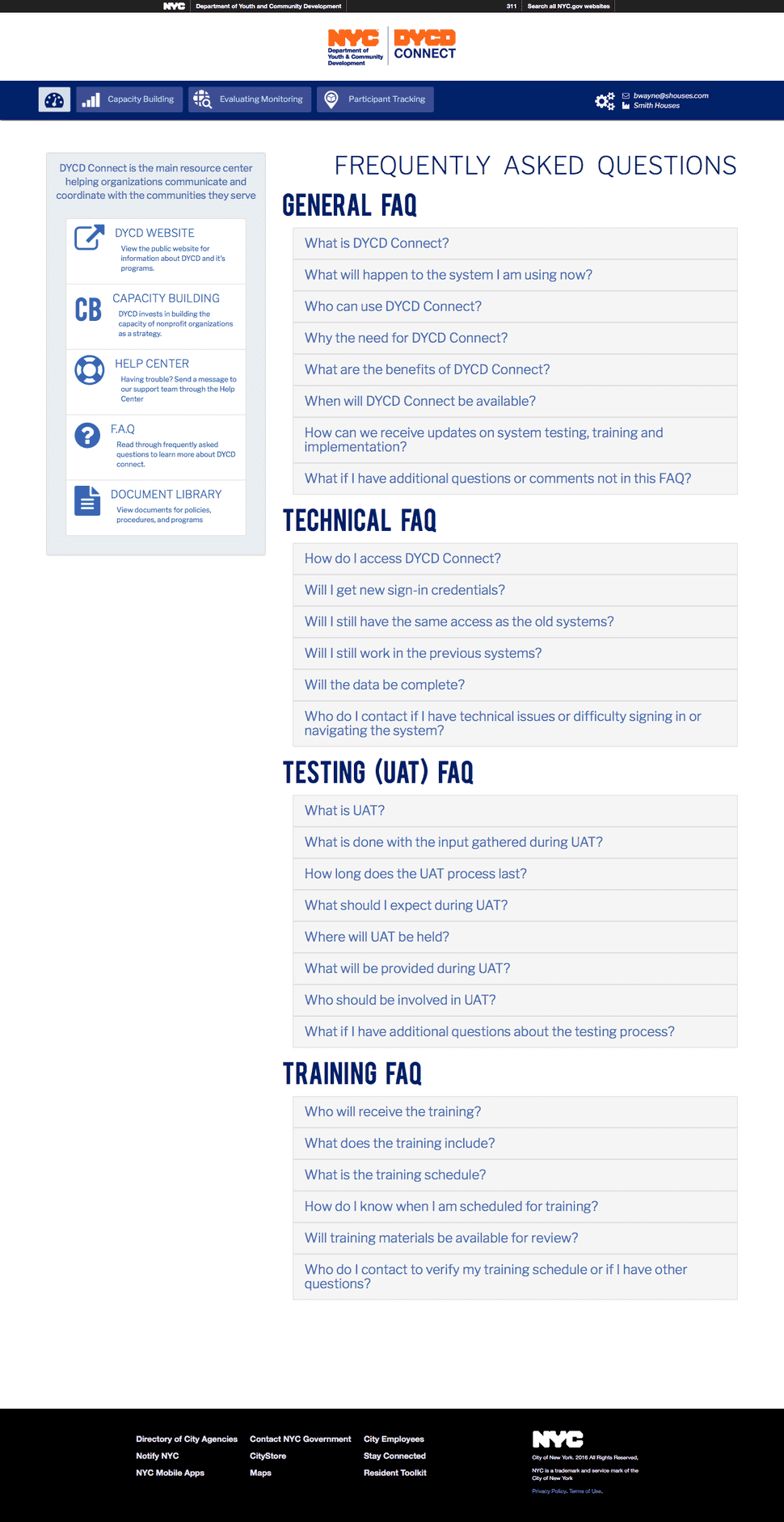 The FAQ is used to answer general, technical, testing, and training related issues regarding DYCD connect's rollout and onboarding
<! -- [View FAQ Page](/projects/dycd/connect/faq.html) -->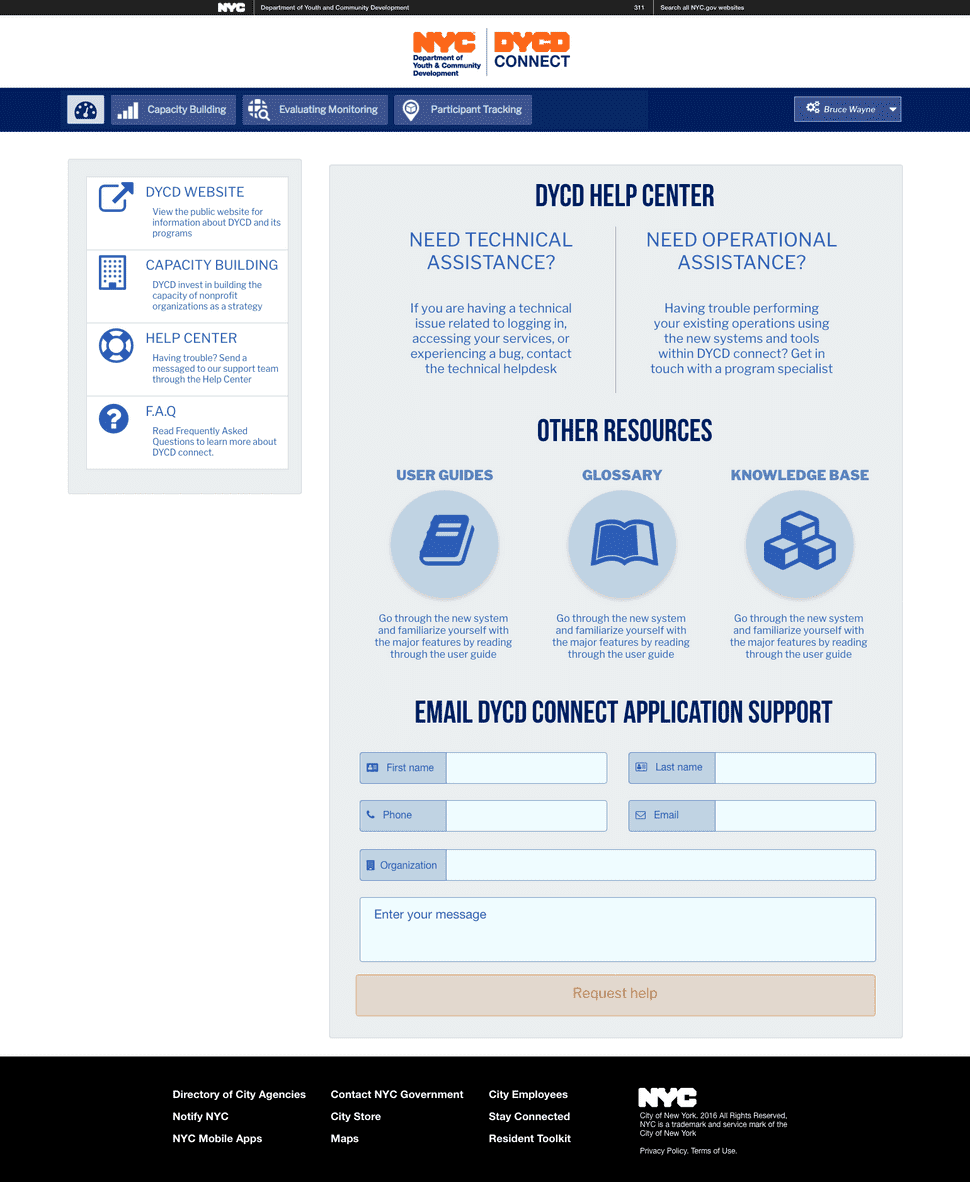 View Help Center
Allowing people to access resources to help achieve their goals, or communicate with agency officials
<! -- [View Help Center](/projects/dycd/connect/helpCenter.html) -->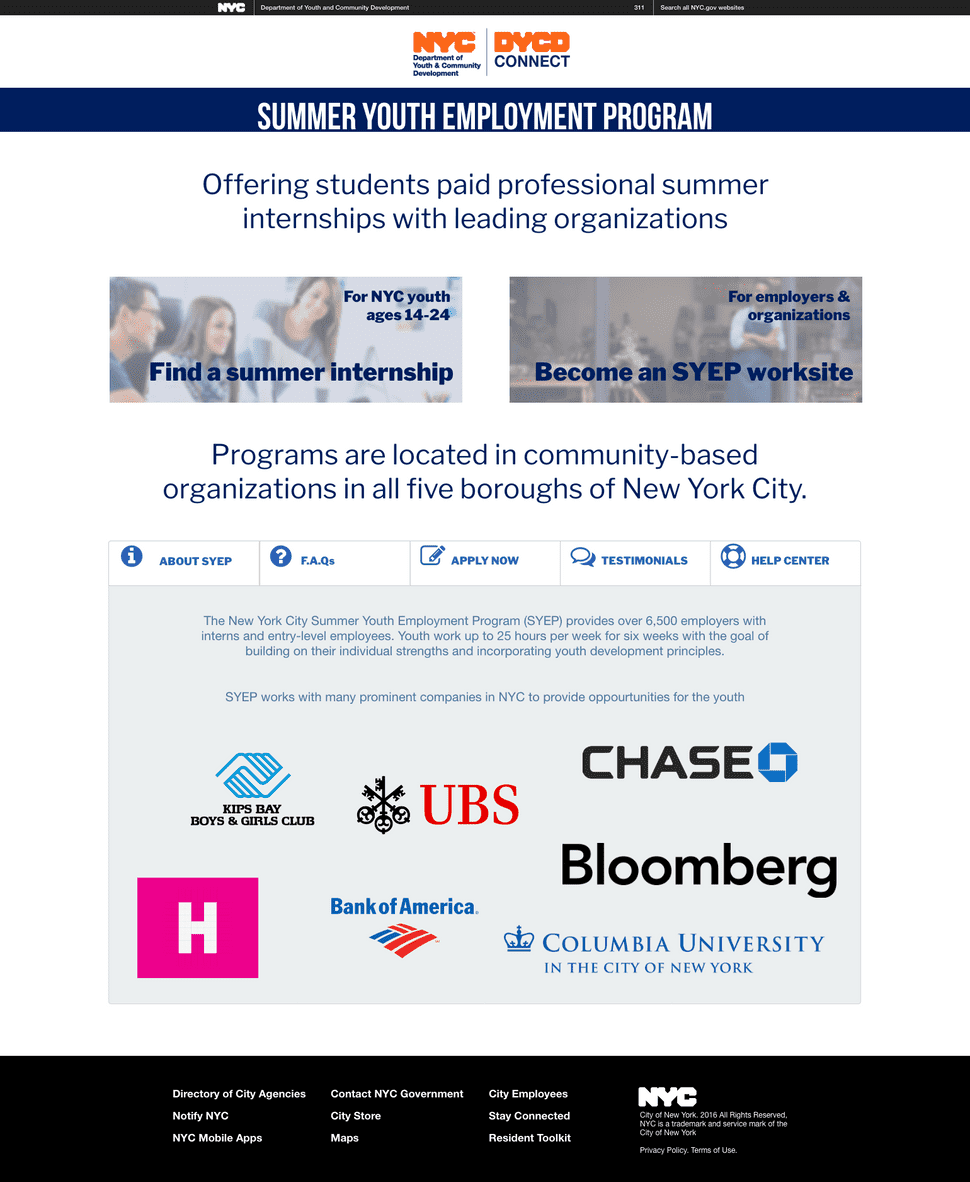 Depending on the program type, organizations will get content and news updates that are pertinent only to them through a custom content management system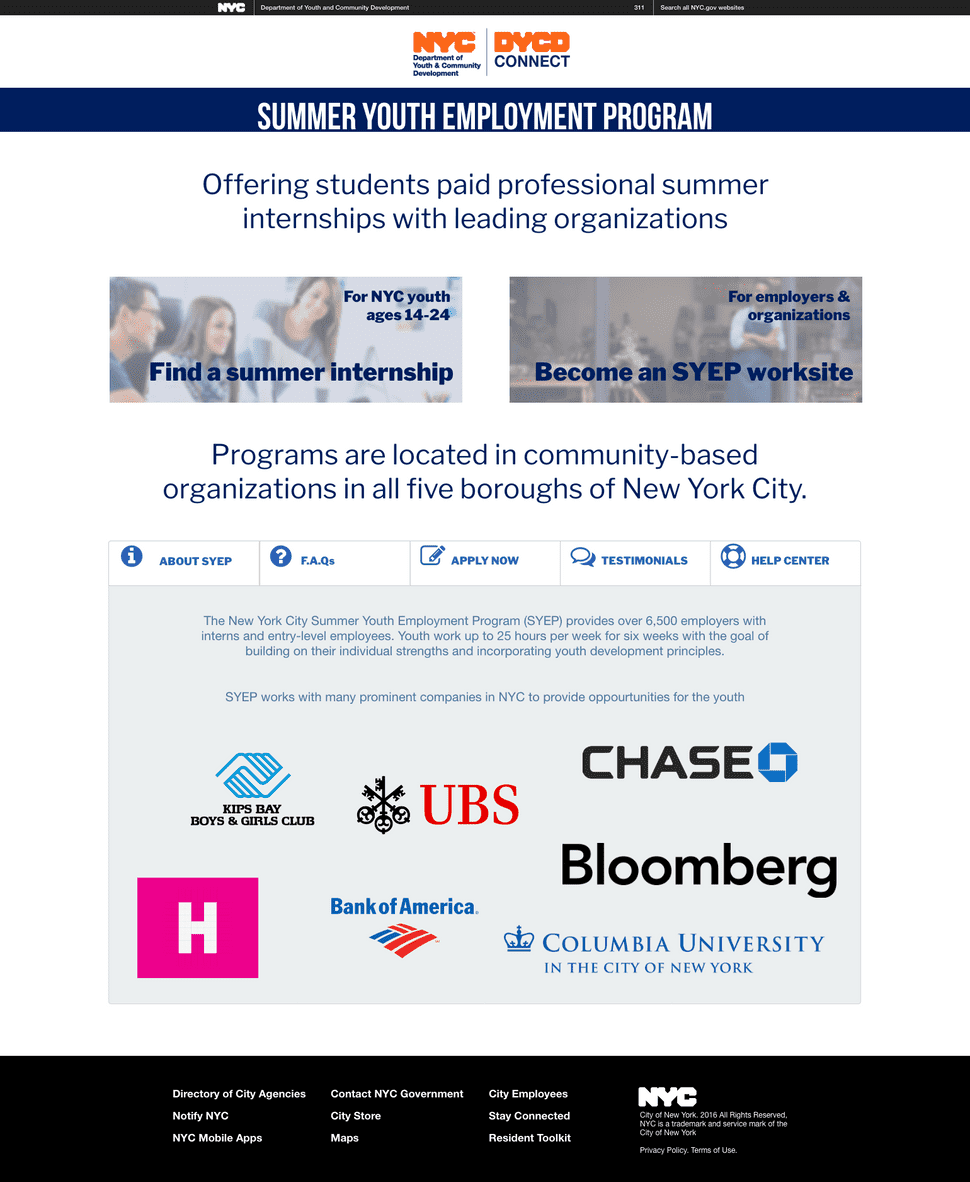 Providing gateways for individual programs to reach out to both community participants, and organizations that can provide them services
Tracking participants and building capacity
DYCD leverages the expertise of technical assistance (TA) providers to offer support aligned with DYCD funded program areas at both the site and organizational level.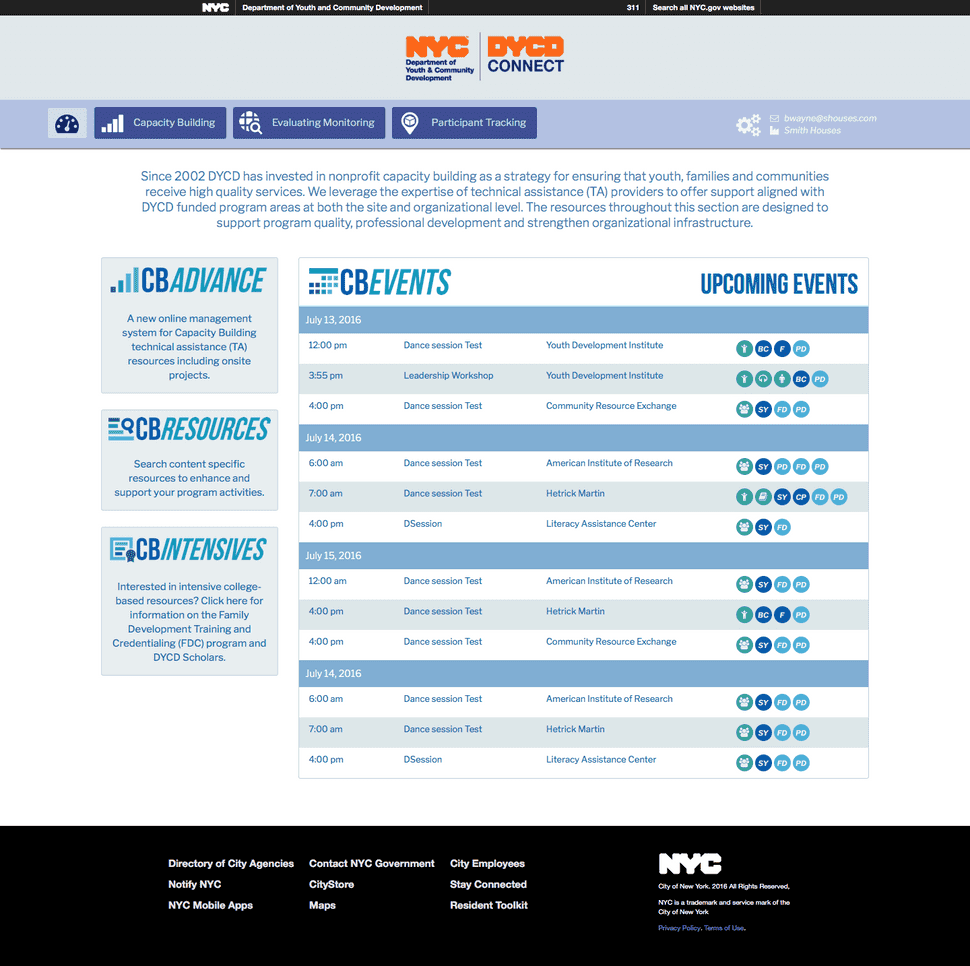 Capacity building resources are designed to support program quality, professional development and strengthen organizational infrastructure.
<! -- [View Capacity Building Landing Page](/projects/dycd/connect/barIntegration.html) -->
Helping out organizations and building capacity
As organizations offer services, they can at times experience inefficiencies and need action plans to help them better serve their communities.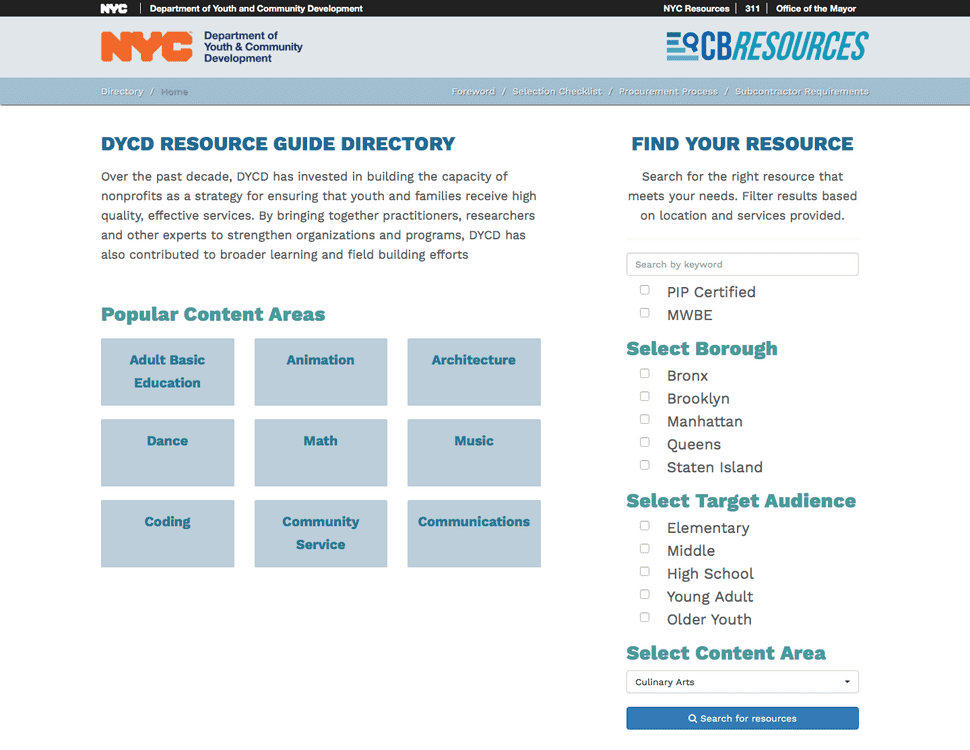 DYCD Resource guide directory contributing to broader learning and field building efforts
<! -- [View CB Resources guide](/projects/dycd/cbresources/directory.html) -->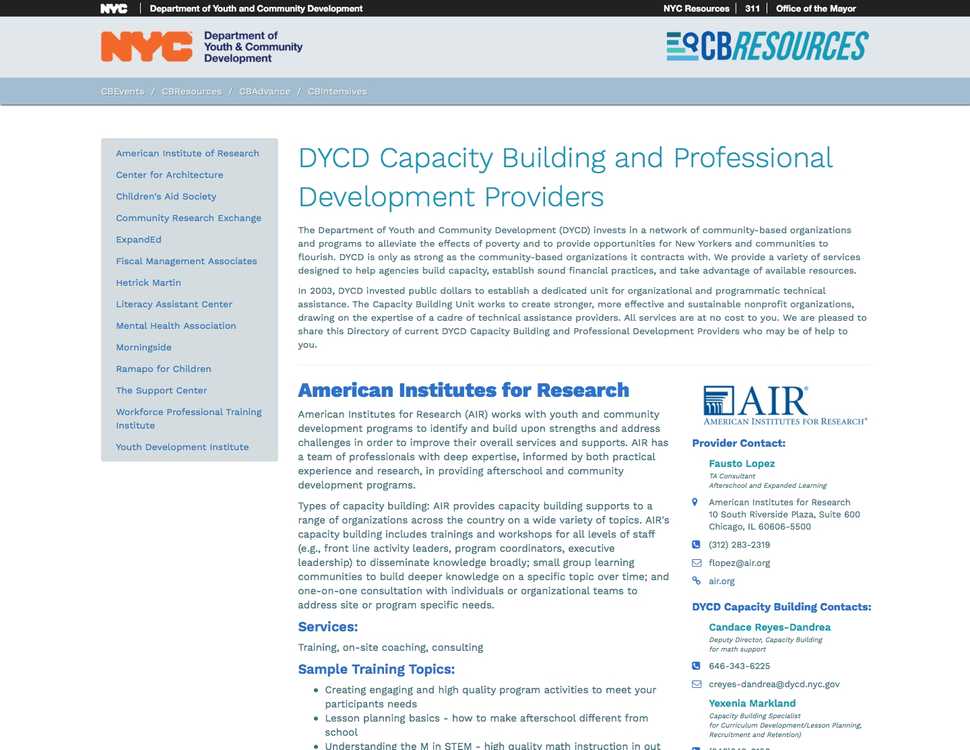 Directory of current DYCD Capacity Building and Professional Development Providers
<! -- [View TA guide](/projects/dycd/connect/faq.html) -->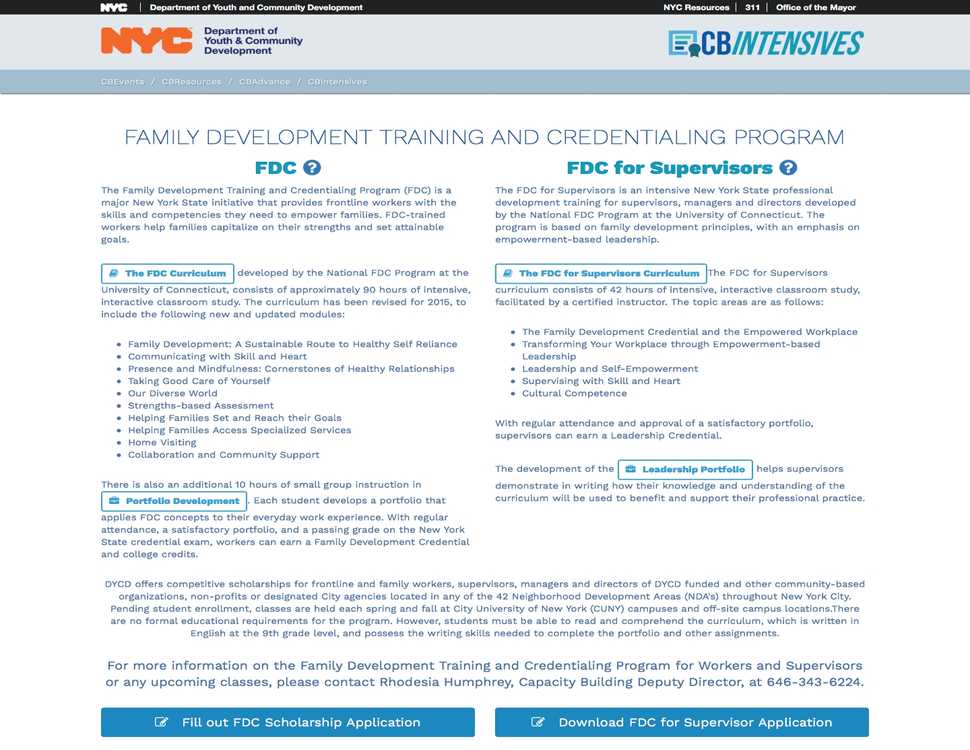 The FDC Program provides workers with the skills and competencies they need to empower families
<! -- [View FDC Program Prototype](/projects/dycd/cblanding/cbintensives.html) -->